February Music Faves
Starting in March and moving forward, I'll be sharing a playlist of 10-15 songs that I obsessed over in the previous month. A post like this will go up the first Monday of every month, and will include a list of curated songs in (what I think is) a tasteful order, and a little blurb to tell y'all what's to love for each of them :)
I make it an obligation to discover songs on a daily basis—whether they are newly-picked from a fresh week's Discover Weekly, or a throwback I resurrected into one of my more recent playlists. So here's my attempt to show some appreciation for these favorite songs, and also share this wonderful music with you!
I'll try to curate a wide variety of songs—including more contemporary jazz/R&B, acoustic picks, and even some of my favorite Classical and K-pop tunes.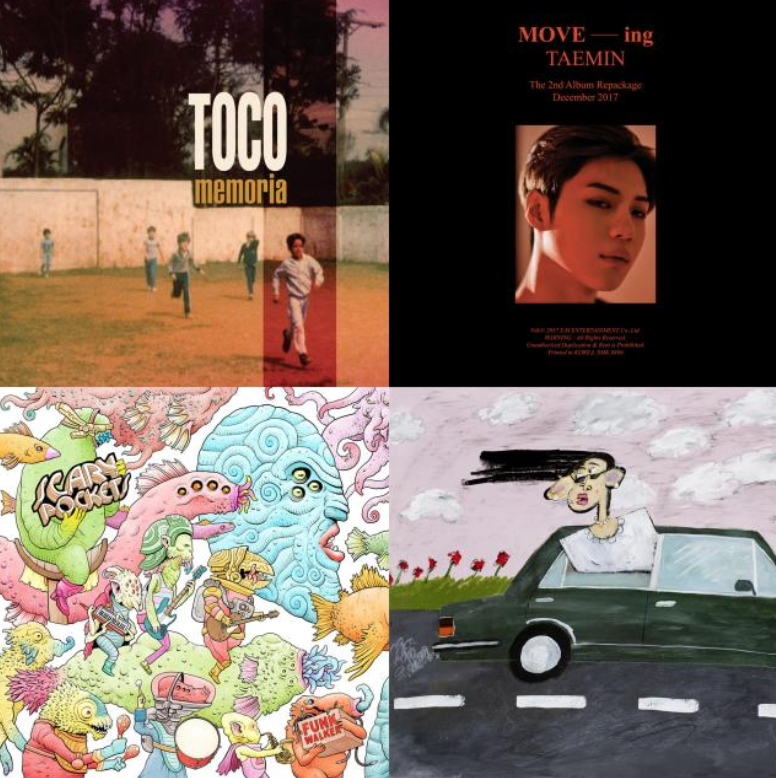 February's picks coincidentally include a lot of spin-off covers of old pop songs (The Beatles, Stevie Wonder, Billy Joel). I've also been obsessed lately with the timbre of the acoustic guitar, so it's not a surprise that there's lots of amazing, skillful guitar-playing in this playlist. I may or may not be using these songs as a reference to how I'll want my guitar-playing to sound (hopefully someday). What a stretch goal.
YESTERDAY
Scary Pockets, India Carney
A funky spin-off of a Beatles classic, this cover features the strong vocals of India Carney—previously a member of the UCLA Scattertones a cappella group and a contestant in The Voice. The group Scary Pockets can turn literally any pop song into a funky remix. Their rhythm section keeps everything pretty simple and sparse—but tasteful—and makes me groove out to their tunes shamelessly at my desk every time I listen to them at work.
낮과 밤 Day and Night
(Instrumental)
TAEMIN
Strings on strings on strings!!! I purposely listen to instrumental version of the song to hear the combination of the nylon string guitar, steel string guitar, and cello (sorry, Taemin). The "crunchiness" of the two guitars layered on top of the cello creates a lovely texture—especially when the steel guitar is doing crazy soloing while the cello is holding out notes in the background. Ugh, just so, so good.
Toco is a Florence based Brazilian born singer-songwriter. People usually refer to his creations as Nu-Brazilian or contemporary Bossa Nova/Samba. This is one of my favorites from him since it's one of his more upbeat tunes. Rhythm section is on fire, beautiful vocal harmonies are at work in the latter half, and horn parts are on point as well... what's not to love?
Here we have another K-pop addition. I make a stank-face for literally the entire 3 minutes and 39 seconds. This song is not only upbeat but also conveys a sultry vibe. I seriously can't get enough of it. I'm in love with the funky fills that the guitar plays during the vocally-sparse parts. The melody is insanely simple, and the fills that the guitar plays are also very simple (singable and memorable, which is great for instrumental fills)... but it doesn't feel too repetitive because the groove changes every 8 bars or so. There's a nice rap part to break up the song into sections too. Also kudos to the easy-to-follow English lyrics that actually make sense (rare for a K-pop song these days): "Killing me softly, why do I feel so lonely, let me love you baby, you are so lovely"
Rhapsody on a theme of Paganini
Op. 43: Variation 18
Sergei Rachmaninoff
The rhapsody in its entirety is based on Niccolo Paganini's famously (almost impossibly) difficult Caprice No. 24 for solo violin. The theme, although pretty straightforward, has been transformed into different variations, all showcasing different, rather difficult techniques on the violin (including one of the most famous uses of left hand pizzicato!). You can barely hear the original in the 18th variation of Rachmaninoff rhapsody, but if you inspect it more technically, you'll be completely mind-blown at how it was constructed. Rachmaninoff basically took the melody, turned it from minor to major, and then inverted it to create a flowery theme that gives off a completely different vibe from the original melody.
Also I love how dramatic the orchestra sound in this. UGH the feels.
This is really just a simple, feel-good song that I play to cheer myself up, or to speed up my walk to work in the mornings. It's funny because the melody and instrumentation make the song sound quite peaceful and happy, but the lyrics are rather sad if you listen closely. The piano fills that proceed the staccato vocal parts in the verses are also very, very tasty.
This Stevie Wonder cover brings back a lot of memories from school since I previously performed the song in my jazz ensemble class. I've come to the conclusion that most Stevie Wonder songs have a colorful harmonic structure, and this song is no exception. Lots of modulations and complexities are complimented by a warm voice and very simple acoustic guitar-playing in the background.
From listening to Frank Ocean's more popular songs, I wouldn't have expected him to put together a song like this. The melody is very jazzy and not easily-singable or memorable for the average listener. I really appreciate how this song gradually grows with its technique of layering instruments and phrases. It starts off in the verses with a sparse instrumentation—just vocals, bass, and a rather repetitive electric piano melody in the background that holds everything together. Then drums are added gradually, along with another piano that's more responsible for chords. Horns come in during the chorus to fill out the chords with long notes as Frank Ocean belts out higher notes. Verse 2 and Chorus 2 are basically the same, except background vocals are used to fill in the space created by the staccato-y piano, vocal, and bass combo. The song ends with the rhythm section just jamming out together, which kind of reminds me of one of my songs, Dear Anna (not to advertise my own music or anything, but why not since you're on my blog anyways :P)
One Day
Nikki Yanofsky, Jacob Collier
Vocals, vocals, vocals!!! These two just have the most buttery of voices... and in this song, their voices just melt together in the most pleasantly unhealthy way when they harmonize. The simplicity of the instrumentation (female voice + male voice + piano) makes up for the fact that the melodies and harmonies are not simple at all. Just in 4 bars alone, they go into several different keys and make me feel uneasy one second and then happy/at ease the next. You can also hear the piano playing some pretty complicated things behind the two singers if you listen carefully. I guess this level of musical genius can only be achieved if you're Jacob Collier.
La belle dame sans regrets
Emile-Claire Barlow
Another buttery voice—perfect for jazz. I listen to this one mostly for the scatting she does with the piano. How can she sing something so complicated and be so in tune and in time? I couldn't believe my ears when I heard it, honestly. And she's doing it live in Japan. What a beast.
Isn't she lovely
Biréli Lagrène, Sylvain Luc
Just listening to this one makes my fingers hurt. Biréli Lagrène and Sylvain Luc are two crazy guitarists that compliment each other amazingly—trading off the responsibilities of both the tight rhythms and insane soloing. Their cover of this Stevie Wonder classic is not as crazy as some of their other covers. Their version of "So What" is even crazier in terms of them doing things that I'd never heard before or thought was possible on guitar.
New York State of Mind
MAX, Phony Ppl
A spin-off cover of a classic Billy Joel tune, this song barely reveals what it's supposed to cover when it first starts out. The eerie-sounding piano paired with the heavy drums work well to juxtapose the melody which is very recognizable and singable. The different theme definitely sets it apart as a unique cover amongst the probably hundreds out there for this song.
You must be thinking: "this song has lyrics?" Why yes! Eva Cassidy's cover of this jazz standard is very simple but insanely beautiful with her amazing live vocals. Getting rid of the swing and stripping it down to only vocals and acoustic guitar gives the song so much more emotion and lifts away the reputation it has for being just an old jazz standard.
Best Part
(feat. H.E.R.)
Daniel Caesar
Thanks to my friend at work for introducing me to Daniel Caesar last year! I don't think he's come out with a song that I don't like yet. His melodies are just so heart-wrenching and the sadness in his voice always makes me question whether he's happily singing about the person he's in love with, or if he's actually really upset. Anyways this song features the lovely vocals of H.E.R. which pairs with Daniel Caesar's own soft vocals beautifully.
Don't Know Why
(Live in NYC)
Norah Jones
Another throwback to college days when I sang this as a solo in my a cappella group... except a cappella will never do this song justice because Norah Jones' piano skills and her band create a vibe that's quite difficult to emulate. I love this live version because it's slightly more upbeat than the original and the vocals do a little more work in terms of changing up the melody in this classic early 2000s jazz-inspired pop song.
Annnd that's a wrap! I got a little too excited writing this. Hope you'll give this playlist a listen and be able to enjoy these songs just as much as I did! Which ones did you enjoy the most? Do you have a favorite song or set of songs you've been obsessed with lately? Let me know in the comments!
♥ Cindy