4 Ways to Wear the Everlane Shirt Dress (Style Collab)
4 ways to wear
the everlane
shirt dress
Style collab with Yuka Ohishi
One of the reasons why I love working at Pinterest is that I am surrounded by so many badass women who are passionate about their hobbies outside of work. Yuka is one of them, and creates beautiful videos on her YouTube channel in both English and Japanese. You can also check out her amazing sense of style on her blog and Instagram. Since we both love to create style content, we decided to get together to do a collaboration for Yuka's channel and for this blog. We designed the collaboration around this dress:
The Linen Shirt Dress
in Medium Indigo
Everlane
$78 USD
The challenge? Take this simple, somewhat boring-looking dress and each create a dressy and casual outfit out of it.
The result:
Way 1: dress it up
Styled by Yuka
To elevate the simplicity of the denim shirt, Yuka paired it with a gingham midi skirt and tied the look together with a western belt. To balance out the feminine skirt with a bit of edge, she added a pair of leather boots from Marc Fisher.
Shirt Dress (acting just as the shirt here): Everlane | Skirt: Stylekeepers| Belt: Zara| Boots: Marc Fisher
Way 2: dress it down
Styled by Cindy
To give my outfit a nautical and preppy vibe, I layered a striped shirt and white wide-leg jeans underneath the shirt dress. The majority of white in this outfit also helps to bring out the vibrance of the indigo in the shirt dress.
Shirt Dress: Everlane | T-shirt: Uniqlo | Jeans: Cheap Monday| Loafers: Modcloth
Now... onto some nautical-style shots we took at this "top secret" location.
When asked to describe our different styles, we agreed that it was important to the both of us to have balance in our outfits—whether it's from mixing feminine and masculine pieces together, or from mixing tight and loose tops and bottoms. Not only does this apply to clothing alone, but to makeup as well. If you're going to be wearing a super colorful outfit, you might want to consider keeping your makeup on the neutral side—and vice versa.
The outfit I put together was quite casual and leaned more towards the tomboy side. To bring some feminine energy into it, I put on a classic red lipstick (M·A·C Viva Glam I). I find that the red lipstick really helps the whites and blues in this outfit pop, and adds a Parisian-girl vibe when paired with the navy stripes.
I know I tend to wear red lipstick an awful lot, but the truth is: I do it simply because it helps me look awake. Because my skin can look washed-out sometimes, I tend to look rather tired when I'm not wearing any color on my lips. I find that the pop of red (or any color, really) on my lips helps give some warm undertones to my face and makes me look energized—even if I only had 4 hours of sleep the night before.
To bring balance to her outfit, Yuka countered the feminine midi skirt with some black boots from Marc Fisher. I personally love the midi skirt + ankle boot combo and have seen it all over outfits at fashion weeks across the globe. This can be a bit tricky to pull off for petite girls, but my advice would be to keep a good distance from the bottom of the skirt to the top of the boots so your legs don't get lost. I also did something similar in a previous post, where I paired some simple black sock boots with a not-so-simple midi dress.
Are we still in San Francisco?
Actually yes, we are. I'm just never telling you where we shot these.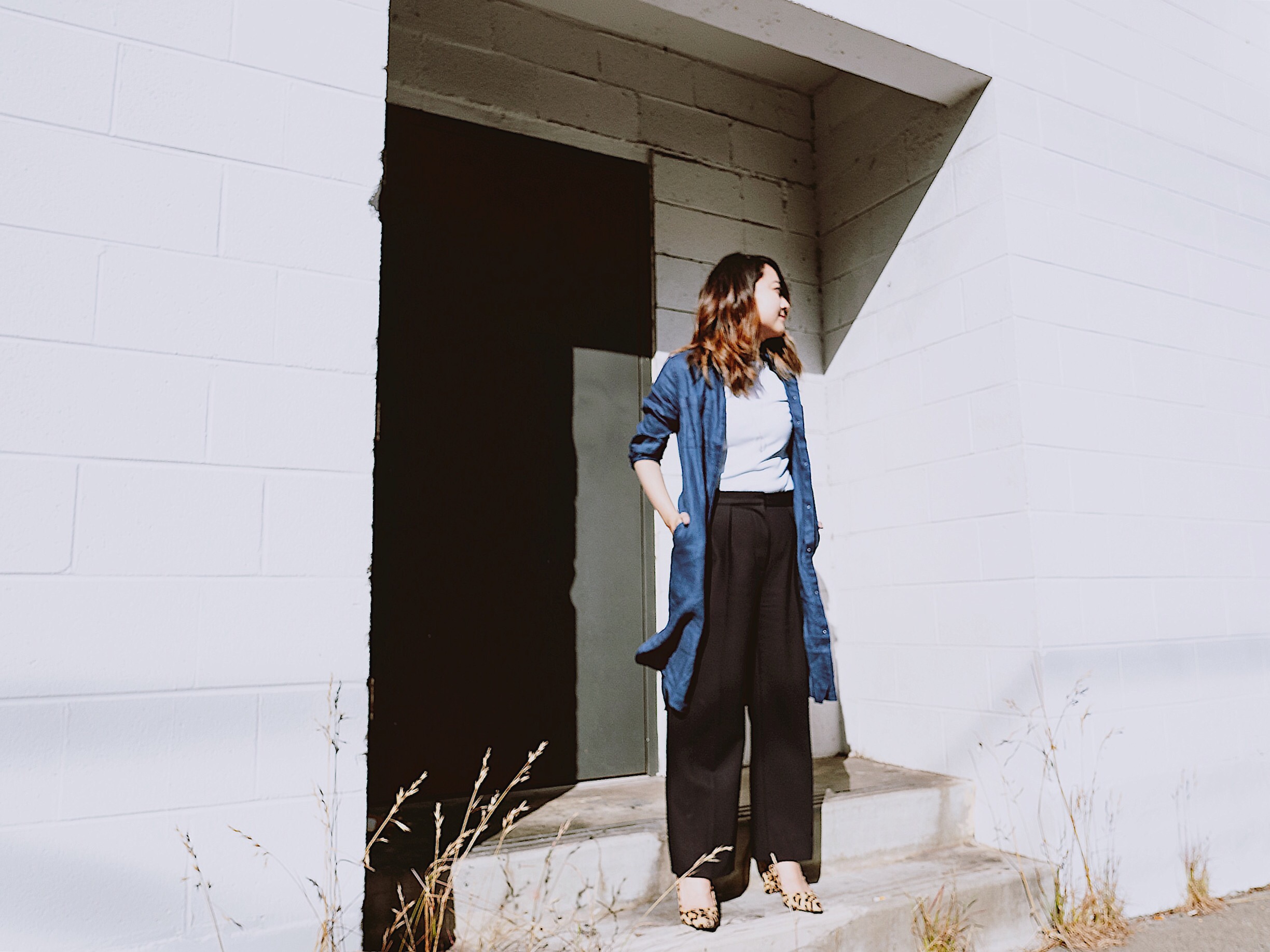 Way 3: dress it down
Styled by Yuka
To style this dress for a casual work setting, Yuka wore it as a light "trench coat" above a black and white shirt + trousers. Then, to balance the simplicity of the outfit, she chose a pair of leopard heels to tie everything together and to bring in a pop of color.
Shirt Dress: Everlane | T-shirt: Uniqlo | Pants: Stella McCartney | Heels: SLY (Japanese brand)
Way 4: dress it up
Styled by Cindy
To give this shirt a more feminine silhouette, I added a skinny belt to cinch the waistline and give the blue dress an unexpected pop of color. I layered a black mesh blouse underneath to add an interesting texture to the outfit, and to elevate the somewhat-casual feel that denim tends to give off.
Shirt Dress: Everlane | Mesh blouse (underneath): Styleaddict | Belt: Modcloth| Heels: Sigerson Morrison
I had a blast doing this style collab with Yuka! It's so fun to discover different people's styles and look into their thought process of constructing an outfit. I'm really hoping that the two of us can collaborate again in the future, and show you more of these collab posts!
If you want to follow Yuka:
YouTube: blossomlink by Yuka
Instagram: @0oyukao0
Blog: blossomlink.me
Pinterest: @0oyukao0
Twitter: @0oyukao0
Also, kudos to me for creating 2 posts in 2 days. I'm going to pass out now, good night.
♥ Cindy