A Short Girl's Take on Oversized Denim
I've been obsessed these days with oversized denim jackets. It's even better if the jacket is in a bold color like this bright red one. For petite girls, oversized clothing can be a bit of a challenge to style, and for a while, I steered away from pieces with a lot of volume because of what they did to my portions. But after looking at a few British brands that also carry petite clothing in addition to their normal styles, I was able to find an oversized jacket that worked for my body. I realized that in order to make a oversized jacket work for a small frame, you have to look for one that is cropped in length—preferably one that sits just at your belly button, or just a few inches below.
Another one of my obsessions lately has been these white wide leg jeans from Cheap Monday (who was nice enough to feature one of my Instagram photos in their gallery for these pants). I feel like I've seen dozens of pants like these on Pinterest lately. This pair combines all of the trends that have been lurking in stores in the last year: the high waist, the cropped length, the raw hem, and the flared wide leg.
Apparel: Red Denim Jacket: ASOS| Striped shirt: Brandy Melville | Jeans: Cheap Monday| Shiny penny loafers: ASOS | Hoops: H&M
To balance out both the oversized denim jacket and the wide leg jeans, I realized that I needed something tighter to layer underneath. I found this striped and slightly-cropped top from Brandy Melville. It worked wonders with the high waisted pants, and was short enough to show off the shape of the jeans without me having to tuck in the shirt and just long enough to cover my belly.
Photos: These were taken by the wonderfully-talented Jeffery Wang, a friend I met from UCSD and now a colleague at Pinterest. We took these a while before the sun started setting, so it was still bright enough for us to catch the reflection of the San Francisco skyline in the warehouse window.
Don't forget to check out Jeff's mind-blowing 500px portfolio!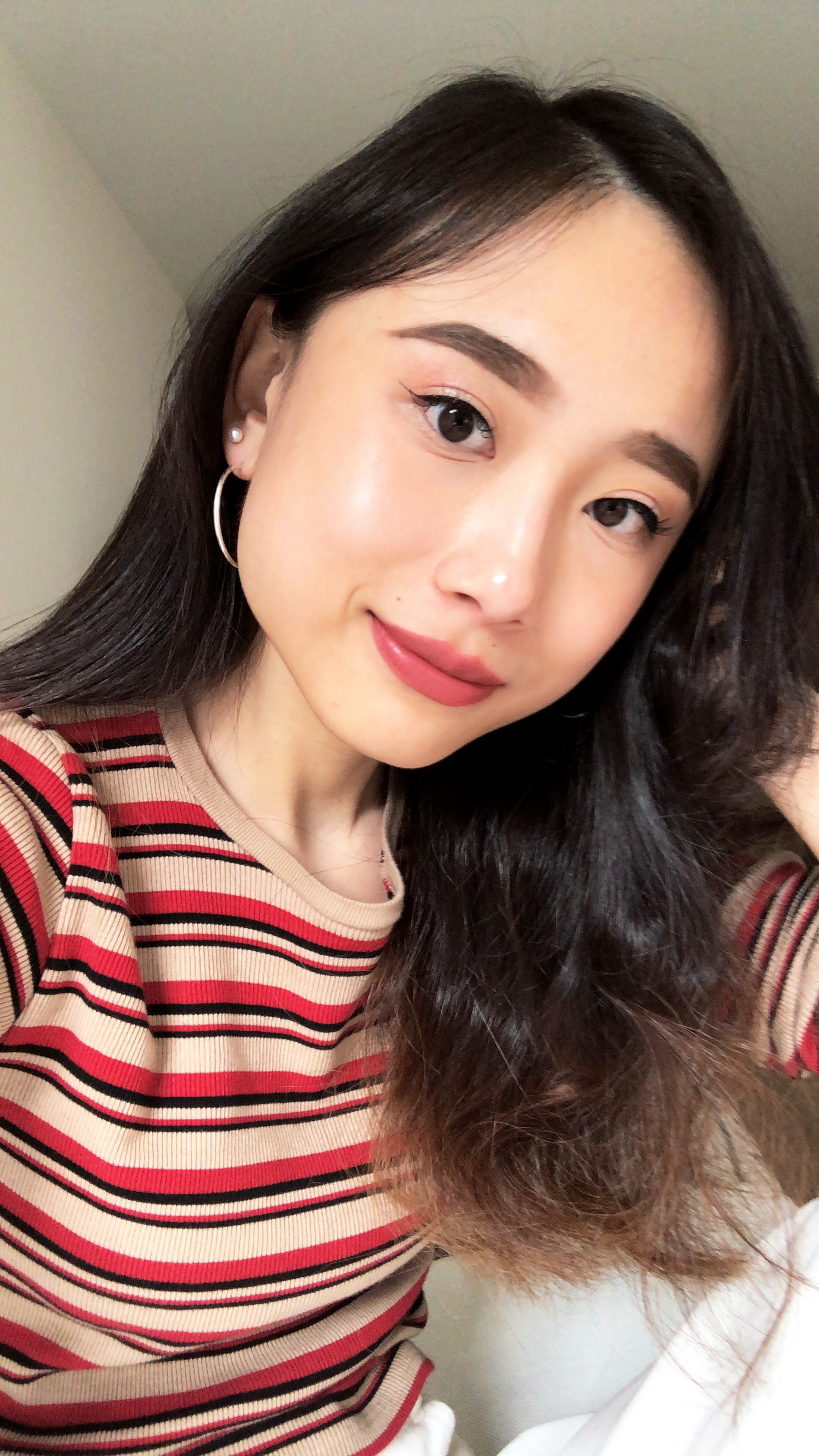 Brows: Anastasia Beverly Hills Brow Wiz in Dark brown + Glossier Boy Brow in Brown | Eyes: Son & Park True Black Eye Pen Liner, Glossier Lidstar duo (shade "moon" in the middle, "cub" on the sides) | Lips: Fenty Beauty Mattemoiselle Lipstick in "Spanked"
After going to the Glossier pop-up event in San Francisco, I purchased the Lidstar duo in the shades "moon" and "cub." The warm, peachy tones worked perfectly with the reds in my outfit as well as the warm tones from the sunset during the photoshoot.
I think this is a look that screams "Summer in San Francisco" with all of its warm tones. Because summers in San Francisco are never very warm, you'll definitely find yourself reaching for a jacket and a pair of pants on a daily basis. Why not try an oversized jacket and pants this summer? And experiment with different color combinations as well? I hope y'all have fun mixing and matching :)
♥ Cindy